Ritik Malhotra, CEO of Savvy, on the rise of tech-enabled wealth management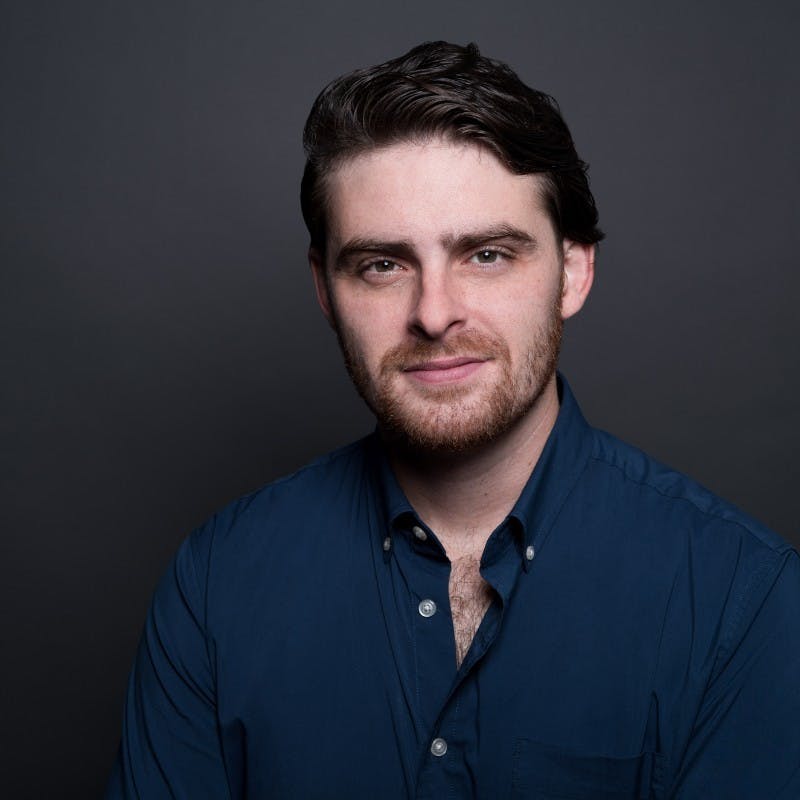 Conor Gleeson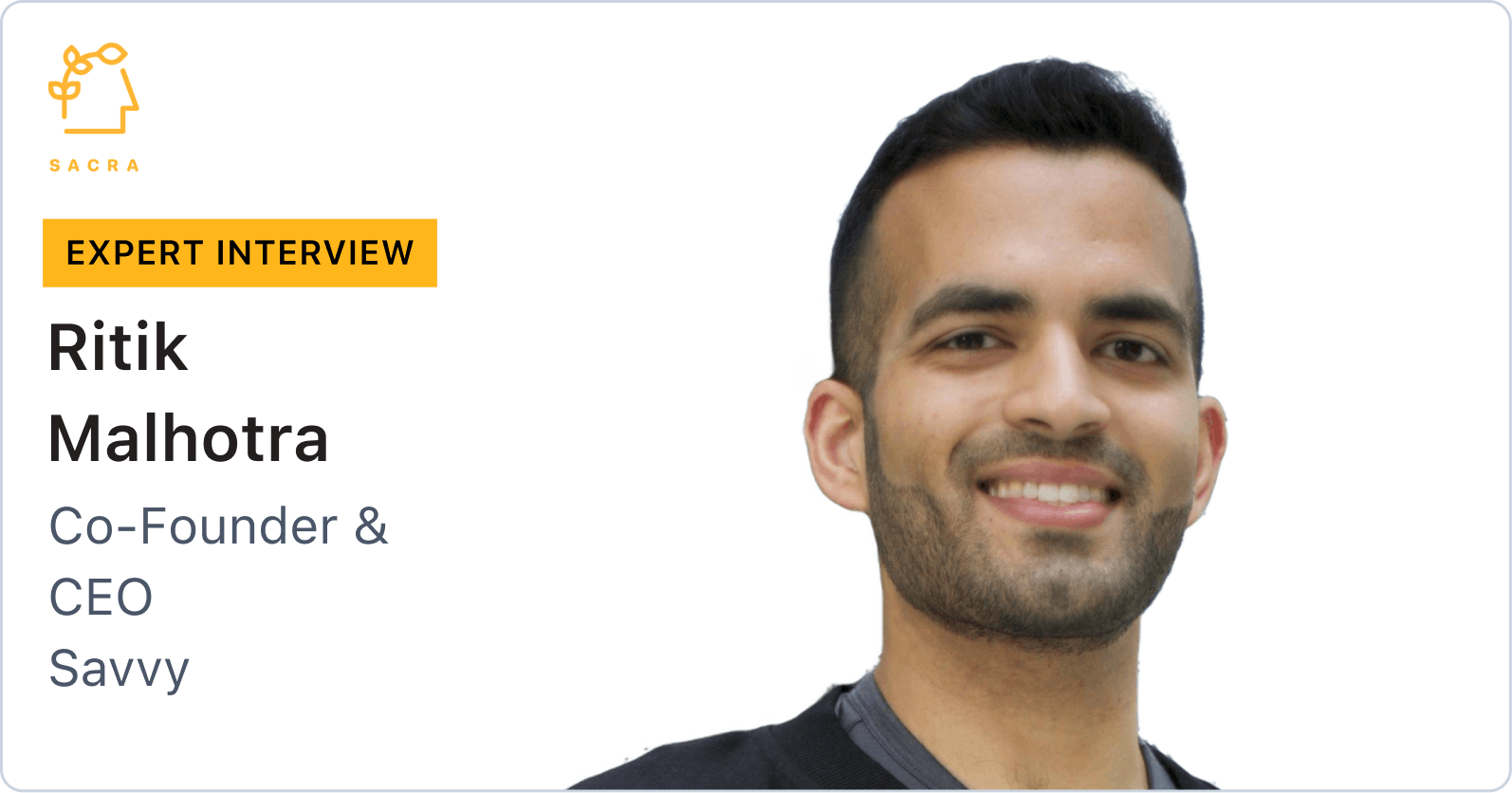 Background
Ritik Malhotra is the CEO and co-founder of Savvy. We talked to Ritik to learn more about the increasing digitization of financial services, especially for the rising class of tech-native high net-worth individuals.
Questions
Interview
Can you start off by talking a little bit about Savvy and the problem you're solving, target customer profile both on the client and the advisor side, and what needs to change about wealth management?
Savvy is a technology-enabled wealth management firm. Think Compass Real Estate in the real estate industry, or Newfront in the commercial insurance space—we believe that same model applies to wealth management. We hire wealth managers with books of business and acquire wealth management firms, then supercharge them with our own proprietary sales, marketing, and back-office automation software, all to help them dramatically grow top-line revenues and improve operational efficiency. The target advisor profile for us right now is typically one of two types.
Independent registered investment advisory firms (RIAs), which might have between one to five advisors with between $50M and $1B in assets under management (AUM). Our sweet spot is right at the $200M AUM mark.
Individual advisors working at a wirehouse, independent RIA, or other financial institution, typically in the middle of their career (not looking to just retire and transition that clients over to another advisor), have lots of ambition left in them, and want to continue growing their books/revenue. 
The target client profile is a high net worth individual or family. This is typically someone between $1M-$20M in net worth looking to have an advisor guide them through their holistic financial picture. These are individuals that have graduated from using a self-serve tool like a robo-advisor and want more personalized recommendations that go past just investment management.
The wealth management industry worldwide estimated a whole $90 trillion client AUM. How do you size out the opportunity for Savvy when you're talking to investors and how much of that market, call it the $1 to $20 million high net worth folks, is addressable for you?
The way we look at it is how much revenue is generated on a yearly basis in wealth management fees and commissions in the United States specifically. (The U.S. is our primary focus). We estimate ~$545B in revenue was generated in 2020 in the U.S. Of that, how much is attributable to the $1M to $20M net worth range versus the lower or higher end of the market? We estimate that it's roughly about 50%. This is the 50% that we're really going after. 
How does Savvy make money? Do you charge clients a percentage of assets under management, or like a flat fee subscription more like SaaS?
Because we hire and acquire advisors with existing clients, we adopt the advisor's existing fee model (how they charge clients) and split revenues between Savvy and the advisor. We don't come in and say, "Hey advisor, you need to be charging X percent or only a flat fee." Remember, they're bringing on their own clients, and so they have the functioning business – and we respect that.
The majority of advisors have a percent-based AUM fee. That is, they charge clients some percentage of the assets they are managing for them. Some of them may have certain clients that are on a flat dollar fee, but that's relatively uncommon. The industry average is 1% for AUM fees. But as you go higher on the net worth scale, typically that can drop down to 50 basis points. We think this aligns incentives: if revenue increases, so does the take-home for the advisor and for Savvy.
Can you share any early signs of product market fit they have?
We're actually in the process of undergoing an acquisition of a firm right now. The firm's primary advisor has seen the different models of how wealth management firms can be built, and there was a lot of vision alignment early on with what he believed the future of the industry was trending towards and what we're doing at Savvy. We've collected approximately ~80 hours worth of direct consulting time with him to validate every single part of the day-to-day operational workflows of a wealth manager, understand where technology can be applied to automate or improve parts of it, and what we can build in the future. Beyond that, we have over ~20 individual advisors that we're in various phases with to breakaway from their existing firms and transition to Savvy. These advisors share the technology-enablement of the industry thesis too.
Can you talk about how you structured deals? There's players like Focus Financial Partners and Hightower that will give advisors cash or equity in their own business or management companies in exchange for the cash flows. How do you think about structuring these types of deals, and can you talk at all about how that looks?
We've found that a mixture of cash and equity in Savvy, depending on the individual's risk tolerance, is what works best. We're relatively flexible within ranges since we're still in early days, and that gives us a key advantage. It's especially important to align incentives early on, because these advisors are making a bet on the future of Savvy — the future product that we build over the years to come will be dramatically better than what it is today as well as dramatically better than the status quo. This is why we aren't just looking to acquire any firm or wealth manager out there. We hand-select advisors who have demonstrated incredible track records and are looking to partner with us in developing our future roadmap. More than accepting a financial payout, they're taking a bet on us and putting in the effort to share the upside. 
Beyond equity incentives, the second component is the split between up-front payment vs. promissory notes. With promissory notes they're guaranteed payments, but the value is contingent on the percentage of client retention in the first year. Typically, the first year is where you see churn. The third component is typically for the advisor's ongoing compensation – typically either a base salary plus a target bonus, a percentage split of revenues of their book of business, or a combination of both.
Traditional wealth management is a high-touch business. Can you talk about the margin profile for Savvy advisors? How you think about balancing services versus tech and the trajectory of Savvy's margins over the long term?
This is a key part of the business. The way that we think about this is, "What does the margin bridge look like?" In other words, what does the P&L look like today and what will it look like in the future with Savvy's products?
There are two levers here from a financial perspective: the revenue generated from clients, and the operating margin of the advisor, which combined produces EBITDA. The first lever is on client acquisition. We use sales and marketing automation that we have experience building at prior tech companies, establish and scale channel referral partners, and employ other growth tactics that today are missing in the traditional wealth management industry – or at least not being done well by anyone today. We think our investment here can dramatically improve client prospecting, acquisition, and conversion, impacting top-line revenue growth. 
Disclaimers