Get access to all our reports for $50/mo
Read about the latest in the private markets and join a growing community.
Valuation Model

Expert Interviews

Founders, funding
Get Access
What's the current state of budgeting apps?
Who are the top players? How many users of they have? How much do they do in revenue? How much money have they raised? What are there top 3 features? What's their distribution strategies?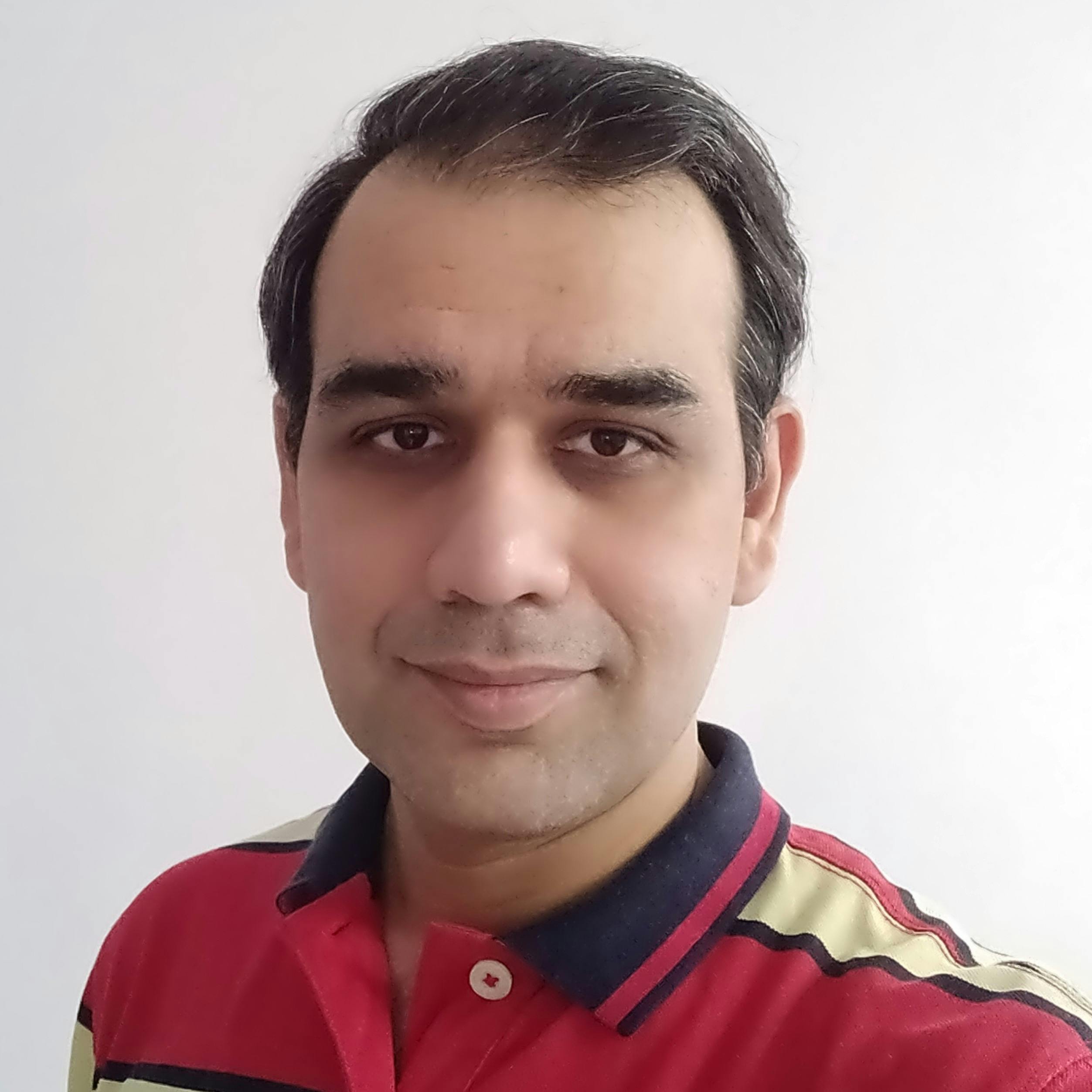 Market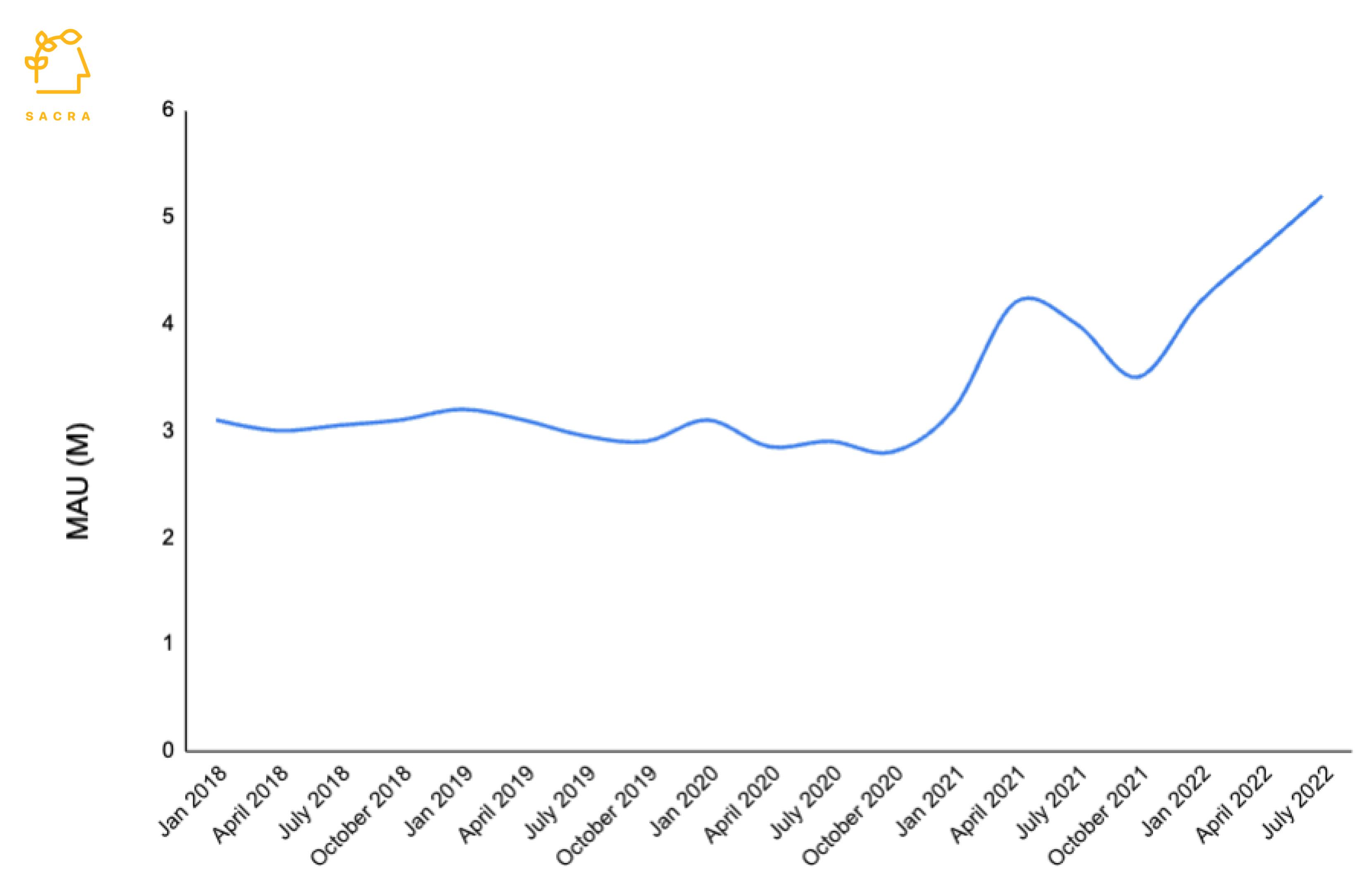 Budgeting apps allow users to set budgets for different spending categories, track their spends, set saving goals, and save money. Some apps offer specialized features like investments, credit score tracking, and bill negotiation. Budgeting apps connect with users' bank accounts and cards and pull data to create a consolidated view of their spending and income. 
The Monthly Active users (MAU) of the budgeting apps in the US reached 5.2M in July 2022, after hovering around 3M MAU in 2020. The growth is driven by increased concern about personal finance due to inflation, the rise of finance influencers on social media, and COVID-fueled worry about having enough money to support life's goals. The first quarter of every year typically sees a spike as people make resolutions to become financially prudent.
Competition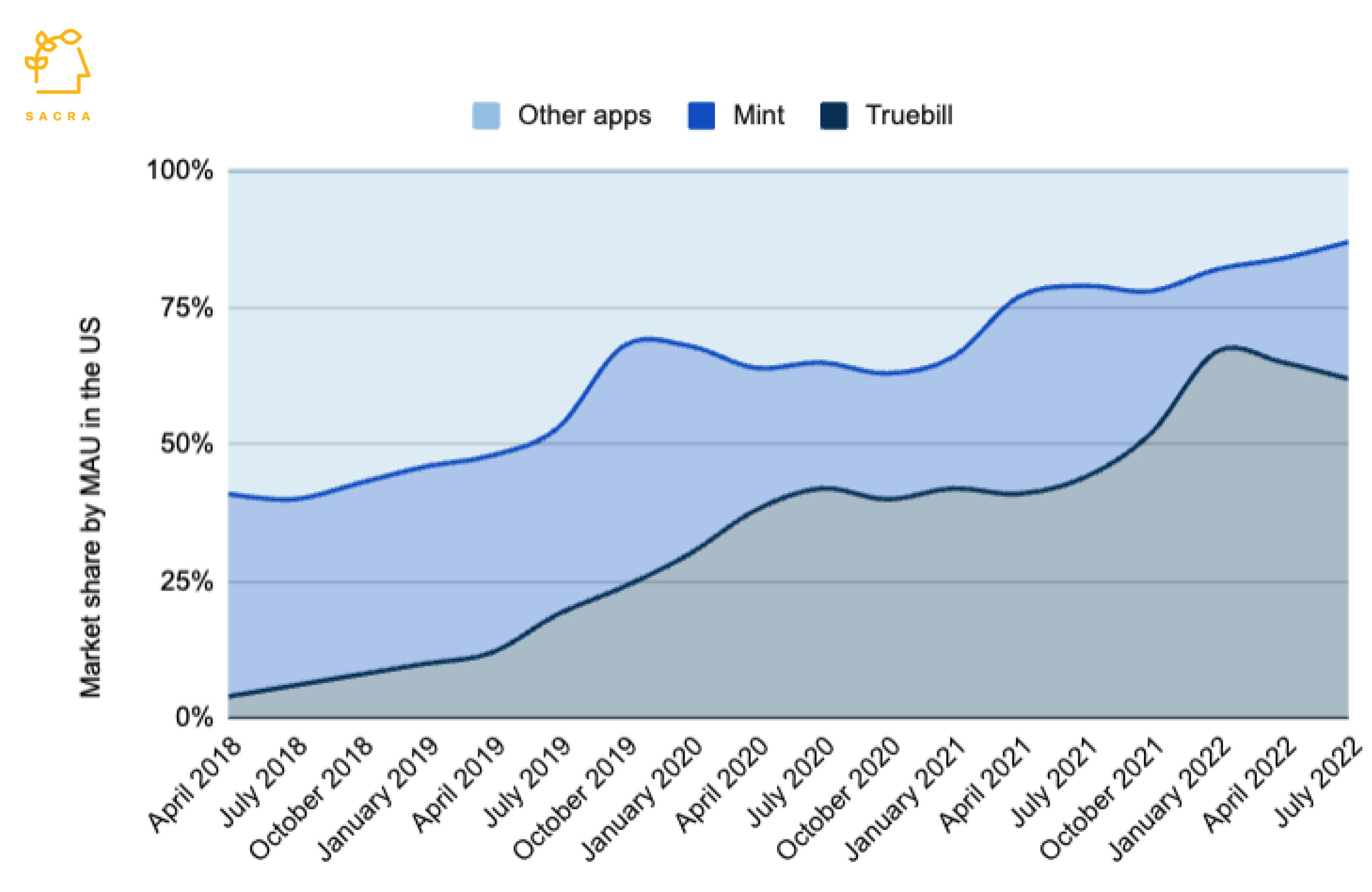 The budgeting app market has evolved into a duopoly with Truebill having 3.2M MAU, Mint with 1.3M MAU, and other apps such as EveryDollar, YNAB, and Personal Capital with ~0.7M MAU.
Mint is one of the original budgeting apps, started in 2007, which suggests financial products to users and earns a commission from referrals while giving the app for free. The challenge with this business model is that the user experience degrades quickly as the app tries to make more money by presenting users with offers that earn a higher commission or increasing the number of offers shown in a session. Mint predates the modern fintech infrastructure, which means early on it used services like Yodlee that screen-scraped data from a user's bank accounts, which compares poorly with today's modern consumer experience. Mint did not keep pace with the shift in consumer spending pattern from one-off to subscriptions as new feature velocity slowed down after its acquisition by Intuit in 2009.
Truebill started in 2015 with the product experience built around helping users track and cancel their subscriptions. Truebill calls, emails, or chats with the services on a user's behalf for cancellation. They extended this to bill negotiation, where they assign a concierge to a user who negotiates to reduce cable or telephone bills. It created a modern user experience right out of the box by leveraging the advances in the fintech ecosystem, such as using Plaid for seamlessly connecting bank accounts. Truebill started with an ad-based model like Mint but pivoted to a paid subscription for the premium and effort-intensive services it offered.
The differences between various budgeting apps are diminishing as they use similar software stack under the hood. For instance, Mint migrated to Plaid, also used by other fintech apps like YNAB, Chime, and Nerdwallet. Additionally, the features of budgeting apps are being commoditized by the apps in adjacent categories. For instance, Dave (neo bank) offers spend tracking and budgeting, Betterment (robo advisor) allows users to connect multiple bank accounts to its app, and Klarna (BNPL) lets users track their purchases within its app. Thus, spend tracking and budgeting is shifting from a category to a feature in modern consumer fintech apps. 
Distribution strategy
Content is the critical component of Mint's marketing and distribution strategy. Its blog (Mint Life) has content on common personal finance issues, investing, salary, etc., along with calculators such as cost of living, inflation, student loan, wedding, travel, and many more. The blog drives more than 50% of Mint's traffic. Mint also leverages data from Intuit (parent company) to create tools like salary benchmarks to generate traffic. Other websites link Mint's content, leading to over 40,000 referring websites for Mint, ~8x of Truebill.
Truebill's distribution and customer acquisition strategy is driven by paid channels. It used paid mentions in personal finance blogs as the growth driver to scale revenue to $1M. Post that, it invested heavily in social media marketing and Apple app store ads to scale to $10M. Offline advertising through TV spots and OOH (taxi, buses, and billboards) are the primary growth drivers for scaling revenue to $100M. Unlike other personal finance products (such as Robinhood or BNPL apps), refer-a-friend drives less than 1% of their growth. One of the SEO growth hacks they used early on was to create 100s of landing pages telling users the easiest way to cancel a subscription by using Truebill or otherwise (https://www.truebill.com/cancel), which generated considerable organic traffic.
Comparison