Get access to all our reports for $50/mo
Read about the latest in the private markets and join a growing community.
Valuation Model

Expert Interviews

Founders, funding
Get Access
What does the gaming/virtual reality space look like as of April 2022?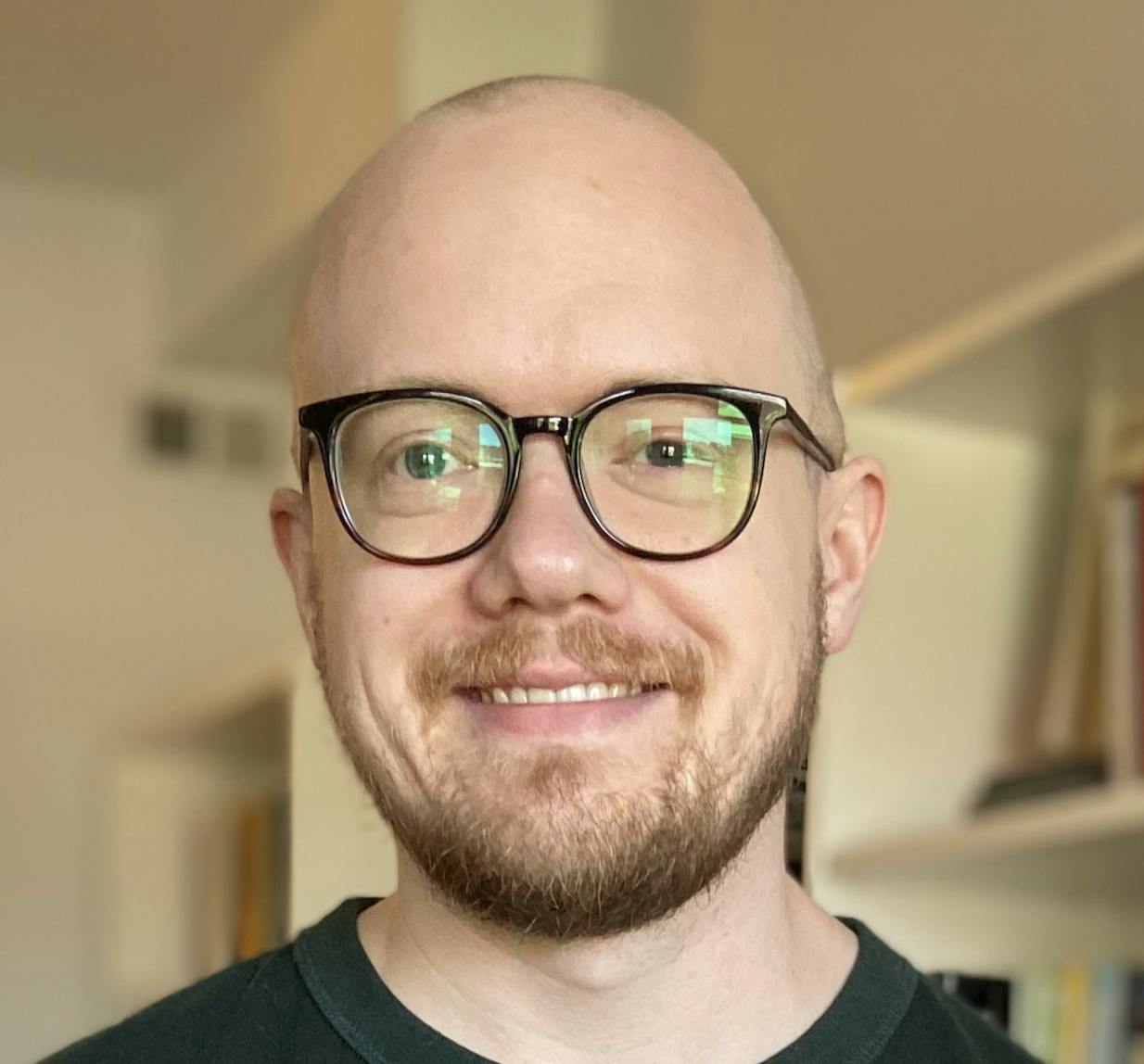 Jan-Erik Asplund
Co-Founder at Sacra
2021 was a landmark year for both VR/AR startups and gaming companies. VR/AR startups raised $1.9B of venture capital in Q4'21, for a total of $3.9B for the year. Gaming companies raised $5.9B through just August.
Driving much of this growth is the emergent idea of metaverses: massively multiplayer, cross-platform online worlds where players go to meet friends, chat, and play.
These kinds of worlds existed before—World of Warcraft, EVE Online, and others—but platforms like Minecraft, Roblox, Rec Room, and others have taken the idea a step further.
At the core, there are three big trends/tailwinds here:
Players as developers: Roblox, Rec Room, etc. unlock the creativity of their users, give players a wider variety of games to play, and create a sustainable ecosystem by letting them benefit financially
Come for the game, stay for the network: Games like Rec Room are as much about chatting and making friends as they are 'gaming', creating more hooks for retention and engagement and opening up opportunities for non-game social use cases (e.g. Fortnite concerts)
Game platforms converging: You get much bigger hits when you don't launch on PS4 or Xbox or PC exclusively, and instead launch across all platforms and allow cross-platform play (enabled by engines like Unreal that let you write one code base and deploy anywhere)
1. Players as developers
Virtual reality and metaverse-influenced games like Roblox, Minecraft and Rec Room turn players from passive to active participants in their own development. Instead of just playing the game designed for you, you can build and play your own games and all of the games designed by others.
With the huge amount of variety across those games (often referred to instead as "experiences"), these platforms ultimately bear more resemblance to YouTube than Candy Crush.
Other players in this space include:
Enduvo: $4M Seed from MATH Venture Partners for its platform that allows users to build and share VR experiences for educational/medical training use cases
Manticore Games: $100M Series C from XN (with additional backing from Benchmark and Epic Games) to build an Unreal Engine-based "Roblox for adults"
Rec Room: $145M Series E from Coatue to build the "Roblox for VR"
The way these platforms run on user-generated content (UGC) unlocks the creativity of the players of these games, allows unique hits to emerge organically, and dramatically expands the universe of playable content.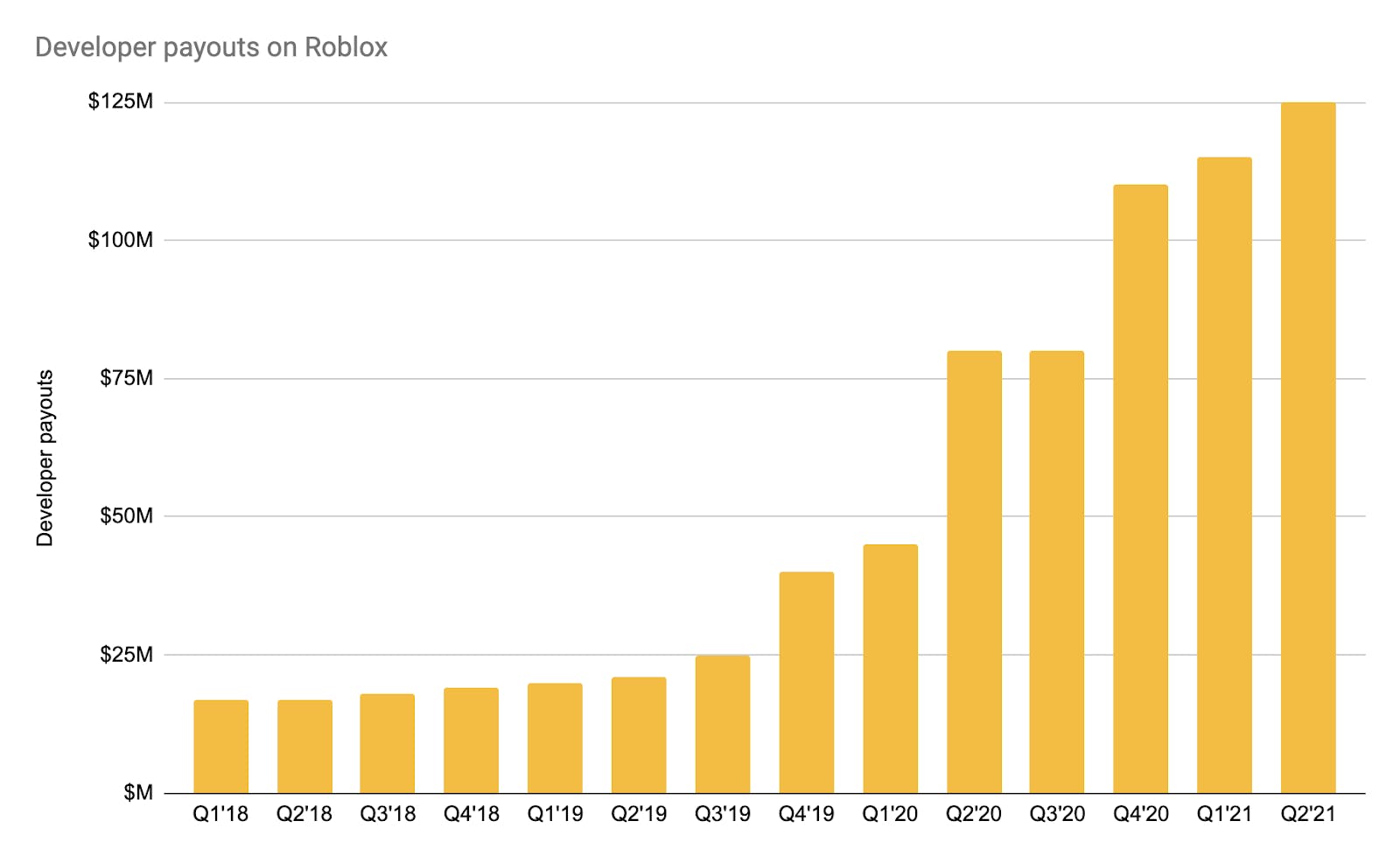 Across the most successful platforms, we're seeing the emergence of ecosystems that allow creators to be compensated for their work. Creators can set their own prices, choose their own business model, use their platform's acquisition channels for distribution and back-end for hosting, and publish across console, mobile, and desktop.
Developers can charge users to play their games, and they can also sell in-game items they have built for other developers to use.
Roblox has led the way on showing how to build sustainable creator economics that drive a flywheel of user retention and engagement. Developers on Roblox earned $500M in 2021, up 52% from $329M in 2020. Roughly 40 million games are available on the platform.
A handful—Adopt Me!, Tower of Hell, Brookhaven, Meep City, and Piggy—have surpassed 10B all-time visits and drive millions per year in revenue for their creators. But it's not just a few games driving retention: 26,953 Roblox games got more than 100,000 visits as of January 2022. The median Roblox user took part in 40 unique experiences over 2021.
2. Come for the game, stay for the network
Games like Rec Room are as much about social interaction, chatting, and making friends as they are about 'gaming', opening up opportunities for non-gaming related use cases and creating more hooks for retention and engagement.
2.5B chat messages were sent in Roblox in 2021. Roblox has also partnered with major artists—Twenty One Pilots, David Guetta—to launch in-game concerts. In the Fortnite universe, nearly 28M unique players took part in a Travis Scott concert in April 2020.
These kinds of data points point to an emergent social network quality to the new generation of video games. Games went from single-player to multiplayer to multiplayer and online. Today, games are no longer merely games but places to hang out—alternatives to Facebook, Twitter, Snapchat, and Instagram—for hours.
And one of the biggest differences between game platforms and social networks is that  gamers spend far more time on the former. Children under 13 already spend more time on Roblox than they do on Facebook, YouTube, and Netflix combined.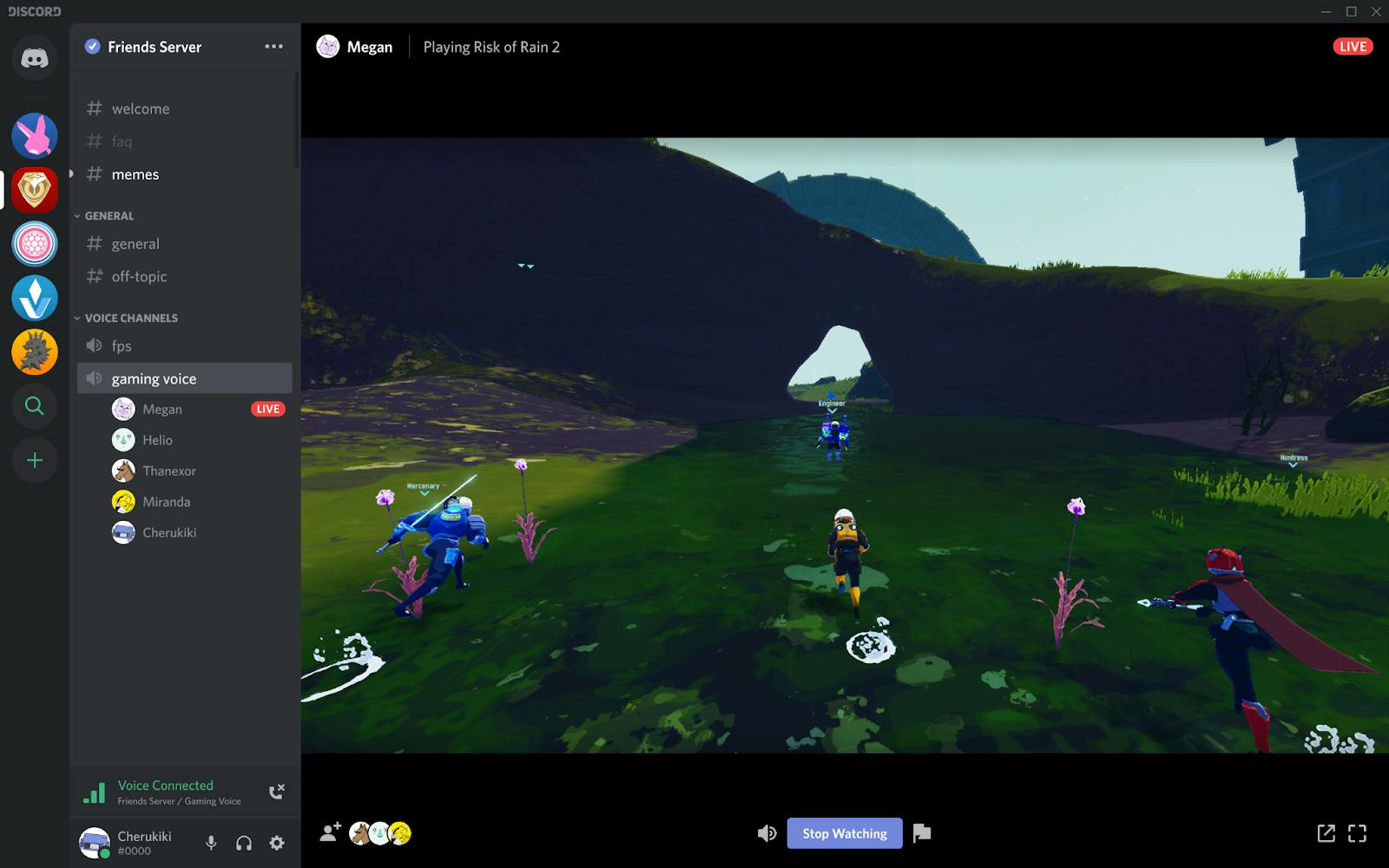 Discord has become the key communications platform for this new generation of games—the place where users can seamlessly move between audio chatting and jumping into games together.
Twitch, meanwhile, has become its YouTube—a place to extend your relationship with a game with parasocial hooks into the larger community around it.
3. Game platforms converging
Games used to launch on specific platforms like PS4 or Xbox or PC exclusively.
Today, they are increasingly being launched across many platforms at once, and succeeding on a much larger scale as a result.
Cross-platform play as a default has been enabled by engines like Unity and Unreal Engine that let developers write one core code base and deploy it across many gaming platforms.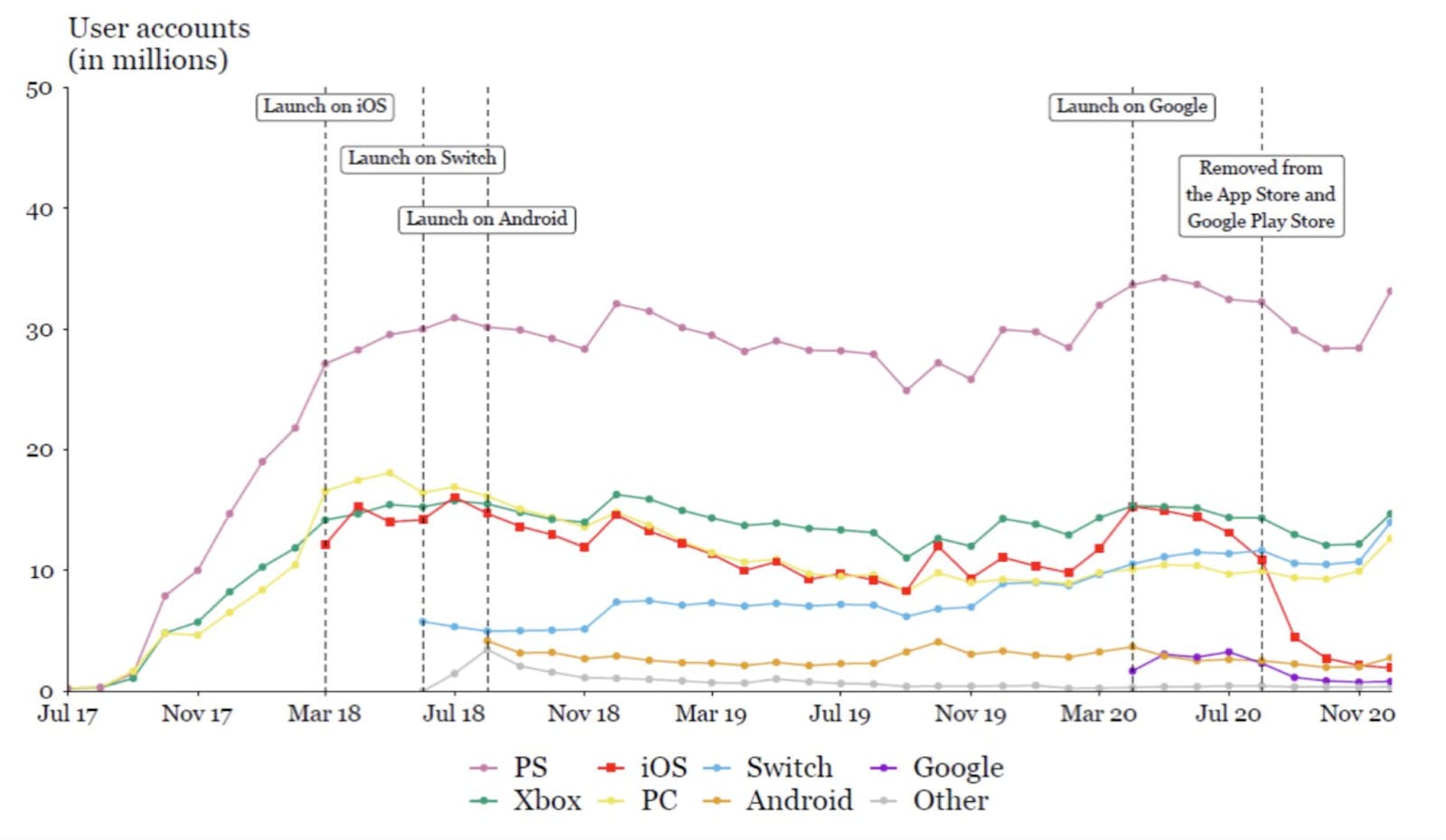 The above chart, courtesy of the Epic Games vs. Apple suit, shows Fortnite's monthly active users by platform: notice that as Fortnite (which has cross-platform play) launched on additional platforms (iOS, Switch, Android and so on), it grew their total player base rather than cannibalizing their existing platforms.
The rise of cross-platform play makes games, like Fortnite, and publishers more important. At the same time, it makes individual platforms less important.
Some publishers (like Activision with Call of Duty) have done a better job of translating existing properties to free-to-play and cross-platform than others.
Game engines like Unreal and Unity were key to the rise of cross-platform development, and they're now further expanding their products to help game developers who are building specifically multiplayer, online, cross-platform games.
In late 2021, Unity launched a beta version of Unity Gaming Services, which provides developers with a framework for implementing multiplayer games with monetization and pre-built backends that support things like lobbies, player matching, in-game voice and chat, and connecting players online.
Further reading