Get access to all our reports for $50/mo
Read about the latest in the private markets and join a growing community.
Valuation Model

Expert Interviews

Founders, funding
Get Access
How is ConsenSys doing as of April 2022?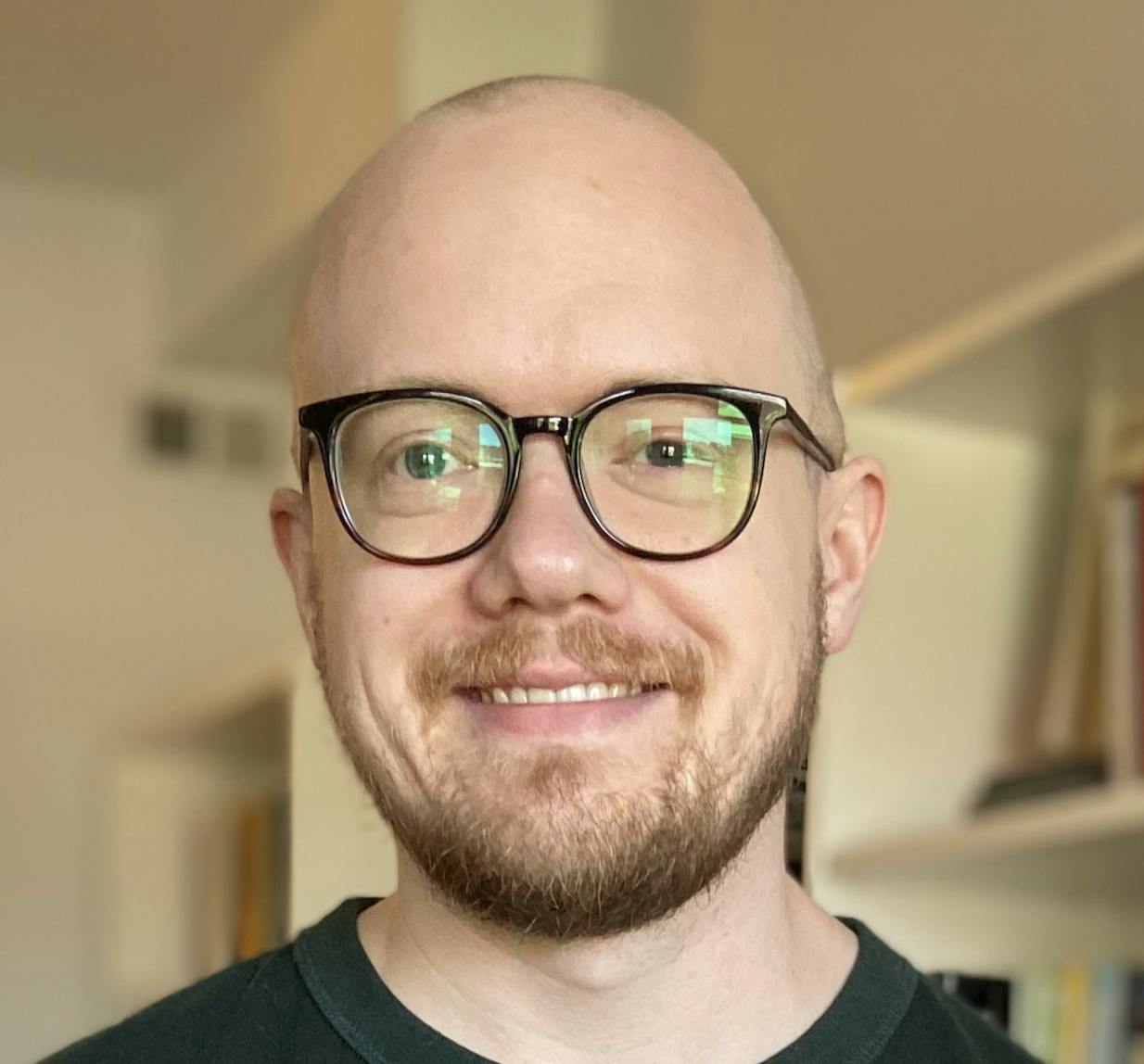 Jan-Erik Asplund
Co-Founder at Sacra
ConsenSys is a venture studio for Ethereum-based crypto projects that incubated and owns influential products like crypto wallet MetaMask and crypto infrastructure API Infura.
They last raised $450M at roughly $140 per share from ParaFi Capital, with participation from Microsoft, SoftBank and Temasek, increasing the company's valuation to $7B.
Joseph Lubin, the CEO and co-founder of ConsenSys, was also a co-founder of Ethereum. He left the Ethereum project in 2015 to build a company dedicated to commercializing the new cryptocurrency, with two big focuses:
incubating new crypto companies, raising money for them, and spinning them out
helping Fortune 500 companies build their own private blockchains.
In 2020, the company split into two corporate entities—ConsenSys Software Inc., which runs MetaMask and other products, and Mesh which is responsible for investing and incubating in new companies.
Revenue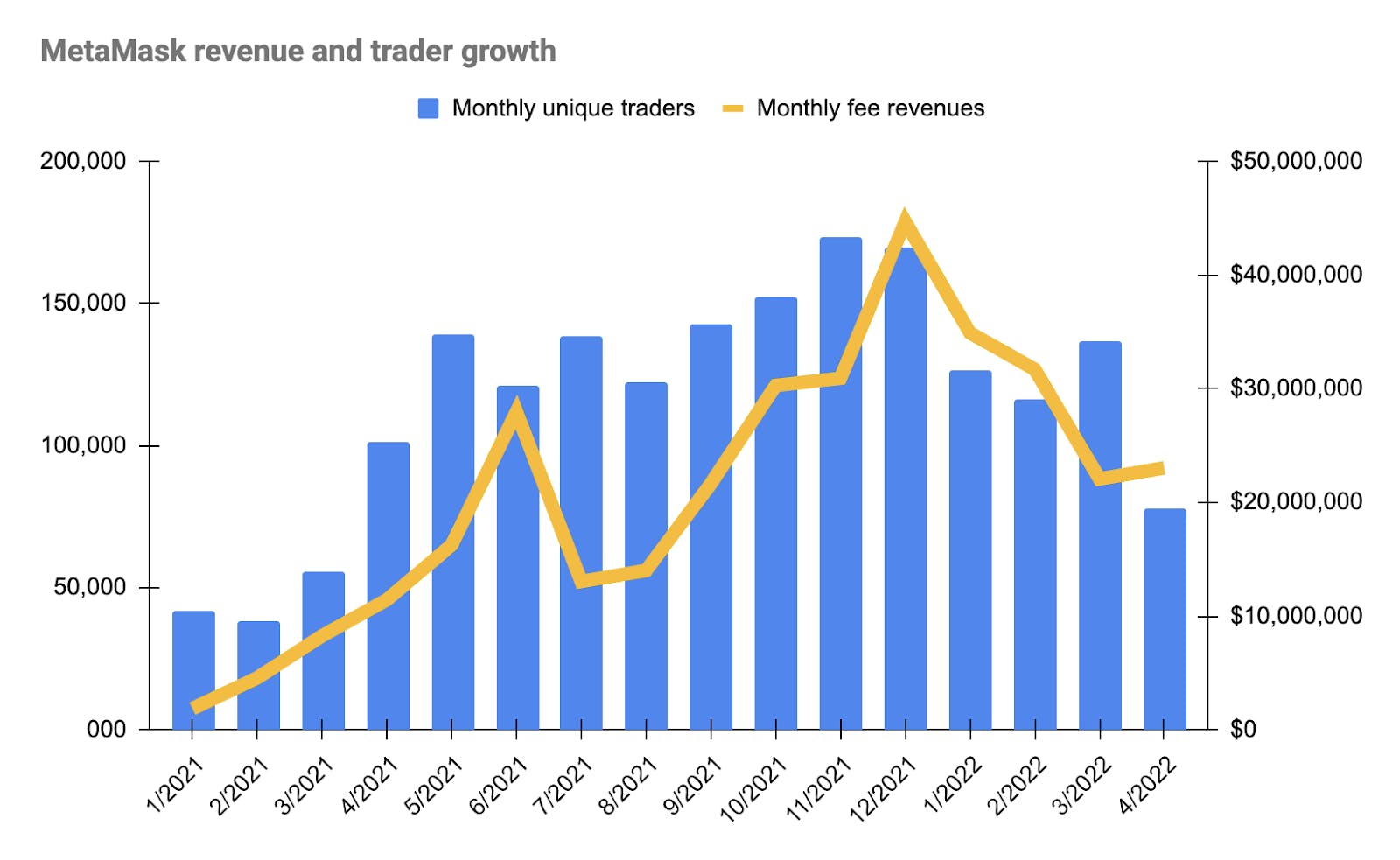 MetaMask reports monthly active users as tied to wallets—we're using monthly unique active traders of swaps (which produce MetaMask's fee revenues) as determined via on-chain analytics.
A bulk of ConsenSys's revenue currently comes from MetaMask's swap fees—the 0.875% users pay in order to exchange their tokens for others using their MetaMask wallet. Those fees grew 2,300% over the course of 2021, from $1.8M over the course of January 2021 to $44M over December 2021.
As of March 2022, MetaMask is pulling in about $21M per month, down more than half from their peak in December, though cycles of high and low activity are not unusual in crypto. That's $252M on an annual basis.
Precise numbers for Infura are more elusive, but the API charges between $40 and $50 per month per every 200,000 requests depending on the pricing tier that a customer is on. The service was reportedly handling about 13B code requests per day during 2017, when Ethereum was in a boom phase—meaning roughly $2.9M a month in revenue if we assume a blended monthly rate of $45 per month, or $34M annually.
Daily transactions on the Ethereum itself have grown around 83% since 2017. Assuming code requests to Infura increased by approximately that same amount, they would be bringing in about $5.3M per month in revenue, or $64M annually.
Product
ConsenSys today incubates products in-house and helps companies develop their own crypto applications and blockchains. The core ConsenSys product suite includes:
MetaMask: crypto wallet
Infura: crypto developer APIs
Quorum: protocol layer for private business blockchains
Truffle: smart contract and Ethereum developer environment
Diligence: smart contract audits and security
Codefi: developer apps for crypto commerce and finance
Quorum, which ConsenSys acquired from JPMorgan after developing it for them as a client, has about 100 customers and has been used for 10 central bank digital currency projects. Truffle is being used by almost 5M developers and companies like Microsoft and Amazon.
But of the many projects created or incubated at ConsenSys over the years, two have really broken out to become fundamental pieces of technology in the crypto space: MetaMask and Infura.
MetaMask is a browser extension and mobile app that has become the default crypto wallet across DeFi, with around 80-90% market share of all web3 users and more than 30M reported monthly users overall.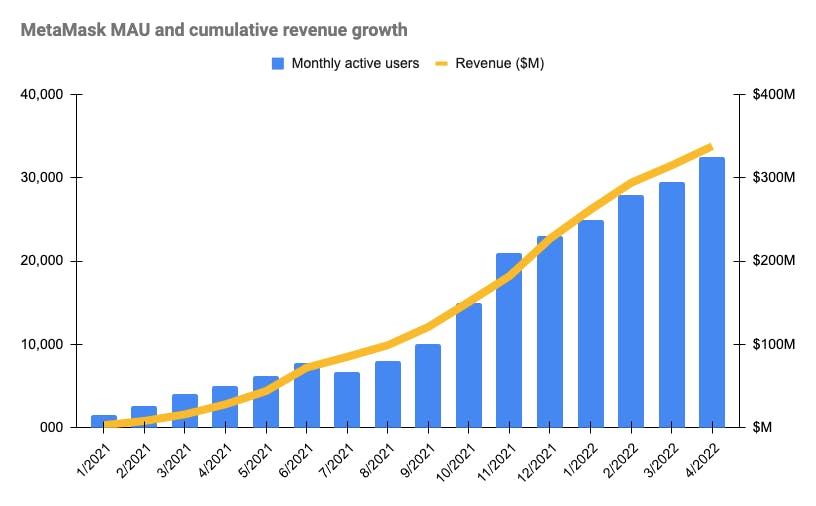 A crypto wallet is essential to participation in the crypto ecosystem, and acts as the main point of contact and gateway between a user and any of the other users or decentralized apps that they might interact with. Sending money to a friend is a use case that typically starts with a wallet, as is trading some of your Ethereum for another coin like Terra, as is going to OpenSea to bid on an NFT or participating in a decentralized exchange.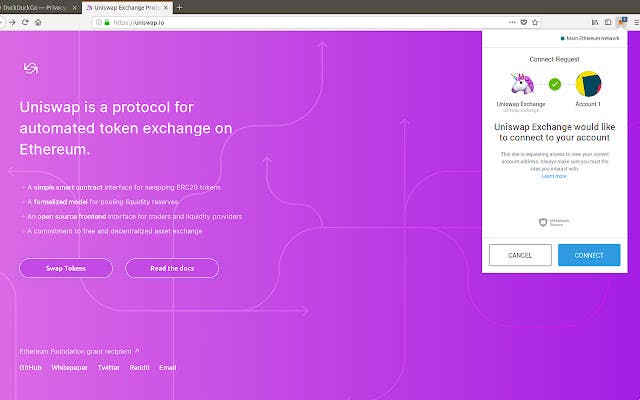 One of MetaMask's key innovations was bringing the crypto wallet from the domain of difficult-to-use native software apps to a highly-accessible Chrome and Firefox extension. As "crypto" has evolved into a vast network of web apps built on Web3.js, MetaMask was well-positioned to offer the browser-native passport unlocking the many new emergent use cases—NFTs, tokens, ICOs, decentralized apps, and more.
Instead of having to spin up an app on your computer that contained your wallet, websites you visited could automatically ping you to connect to your MetaMask and enable you to transact. By bringing the Ethereum web3 API into the Javascript context of the website itself, decentralized apps use the MetaMask extension to read from the blockchain.
MetaMask's core source of revenue, swaps, allows users to exchange cryptocurrencies for others without having to send their crypto to an exchange, wait, and then sell it in exchange for another one.
Infura consists of a series of APIs that crypto developers use to spin up and run new decentralized projects.
It has become a core piece of infrastructure for the entire DeFi space: so much so that when it had an outage in November 2020, major crypto exchanges including Binance and Bithumb were forced to halt Ethereum withdrawals. Major services like OpenSea outsource the running of their Ethereum node to the service.
Infura grew 250% from 100k to 350k developers over the course of 2021, and as of April, has hit 430,000 crypto/web3 developers and more than $1 trillion in annualized transaction volume.
Competition
Infura competes on the "AWS for crypto" use case with various other APIs: Ankr, Blockdaemon, Moralis, Etherscan, DeBank, and Alchemy.
Alchemy is its biggest competition: worth $10.2B, Alchemy has raised $563.9M from Lightspeed Venture Partners, Silver Lake, Andreessen Horowitz, Addition, and Coatue.
On the wallet side, MetaMask's main competition today includes startup wallets like Rainbow and Coinbase's recently launched wallet (Coinbase Wallet).
ConsenSys itself, indexed as it is on Ethereum, faces likely its biggest competition from another blockchain—Solana—which has acquired powerful venture capital backing, particularly from funds that missed out on making lucrative early investments in Ethereum.
Solana, which is backed by Andreessen Horowitz, Ribbit Capital and Lightspeed Venture Partners, offers crypto developers and users a similar ecosystem for decentralized apps, but with significantly lower transaction costs and faster transactions. Its core token, SOL, has increased in value by 6,500% since the beginning of 2021 and there is about $6.6B deposited in DeFi Solana projects.
TAM Expansion
ConsenSys's biggest future tailwind is the continued expansion of the crypto, web3, and DeFi ecosystem and their ability to ride that growth with the new projects they incubate inside the company.
ConsenSys's control of MetaMask and Infura gives them a powerful advantage here, with the privileged view they offer into much of the web3 and DeFi ecosystem. ConsenSys can see how users behave and what decentralized apps and protocols are the most popular, as well as what developers are building and what new needs are emerging.
One of ConsenSys's key advantages in the future will likely the relationships they have established with regulators and financial institutions that few other crypto players have. Lubin was Ethereum's unofficial and original "envoy to Wall Street", and he has harnessed those connections to build ConsenSys in the years since. In the summer of 2020, JPMorgan Chase took a large stake in both MetaMask and Infura. The former director of the SEC's Division of Corporation Finance, William Hinman, said in 2018 that Ethereum was "sufficiently decentralized" to escape the purview of the SEC.
Risks
There are two key risks to consider with ConsenSys: decentralization and competition.
ConsenSys, while a core piece of the early Ethereum ecosystem, is not a strong example of the decentralized ethos of cryptocurrency. 80-90% of the entire crypto ecosystem, including MetaMask (the default wallet for most DeFi participants) relies on the core infrastructure of Infura, which itself runs on Amazon Web Services.
If strong, decentralized alternatives to MetaMask and Infura were to emerge, the wider crypto ecosystem could well gravitate to those alternatives. The fact that decentralization is core to the idea of cryptocurrencies could be a powerful accelerant here, particularly given ConsenSys's close relationships with financial institutions like JPMorgan Chase. Those relationships have been useful for ConsenSys so far, but could be a liability when it comes to maintaining the support and trust of the broader crypto ecosystem.
Circa 2017, ConsenSys was considered a more influential player in the crypto ecosystem, because there were few other companies as big and well-capitalized building products for the space. Today, the situation is vastly different. MetaMask and Infura are big, important projects—but the amount of venture capital funding competitors, from Alchemy to Solana, has hit another level of magnitude.
Model